"We just have to get players" it is a phrase that new Penn State basketball coach Pat Chambers has used in almost every interview he has conducted since being hired not even a month ago. A seemingly obvious statement, yet a reassuring commitment to the restructuring of Penn State's recruiting system. It is something that Ed DeChellis and Co failed to recognize, the basic understanding that for as important as the Xs and Os are, the success of the program ultimately comes down to who you have on your team.
Ironically however, with a loaded roster of young talent Chambers comes to Penn State with only 3 scholarships to recruit with until 2014. Despite this deficiency, Chambers and his new assistant coaches have already been hard at work in Philadelphia and New Jersey trying to find the sorts of players that they feel can take the program to the next level. While Penn State fans shouldn't expect the program to start seeing its share of 4 and 5 star players in the next year, Pat Chambers' active presence in the area has produced contact with 5 different recruits as well as his first offer as coach at Penn State. In the past 14 days, Penn State has reached out to these 9 total players, 5 of whom are eligible for the 2012 recruiting class.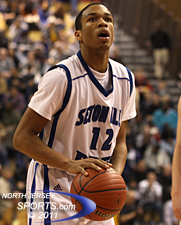 OFFER: PG, Dallas Anglin
School: Seton Hall Prep (Jersey City, NJ)
Offers from: Penn State, Rice, Richmond, Rutgers and St. Joseph's
Schools Gaining Interest: Notre Dame, Providence, Rice, Seton Hall, and Florida
ESPN Rating: 84
Quotables:Anglin is a quick and athletic combo-guard with a high motor. He makes things happen on both ends of the floor, but needs to develop into more of a point guard and become a more consistent shooter from the perimeter.
PROSPECT: SF, Jarrod Davis
School:Robinson School (NJ)
Offers from: Committed to Seton Hall and then attended Prep School.
Schools Gaining Interest: Rhode Island, UMass, UTEP, Morehead State and Marshall
ESPN Rating:88
Qouteable: Jarrod is a skilled wing. He is a very good scorer that can attack from anywhere. He is a good shooter to 20 feet and is also a very good slasher that can finish above the rim. Davis is a solid basketball athlete. He is a good rebounder for a wing player. He has long arms that allow him to grab rebounder over his opponents. Defensively Jarrod is decent but he has solid tools to be good defender down the road.
PROSPECT:PF, Jerome Frink
School: St. Anthony (Jersey City)
Offers from: None
Schools Gaining Interest:USC, St. Joe's, Siena, La Salle, Temple and Penn State ( Frink said that he is looking for "academics" in a college and is "gonna wait until senior year" to commit.)
ESPN Rating: 86
Quotables:Frink is a very talented prospect with undeniable upside. He will continue to improve at a rapid rate while at St. Anthony's and ultimately has all the tools to potentially play his way onto the highest levels of recruitment.
PROSPECT: PF, Jimmy Hall
School: St. Anthony's (NJ)
Offers from:Boston U (recruited by Pat Chambers), Temple, Siena and Hofstra
Schools Gaining Interest: George Mason
ESPN Rating: 84
Quotables: His incredible length is his biggest asset and he utilizes it effectively to score and rebound. He rebounds with two hands, almost always at his highest point above his head, and also scores over defenders on the interior. He has good touch and an expanding skill set that allows him to pass effectively with his back to the basket and also step-out to handle and shoot some.
PROSPECT: PF, Charles Cooke
School: Trenton Central HS (Trenton, NJ)
Offers from: None
Schools Gaining Interest: Unknown
ESPN Rating: 85
Tags: Charles Cooke Dallas Anglin Jarrod Davis Jerome Frink Jimmy Hall Pat Chambers Penn State Basketball