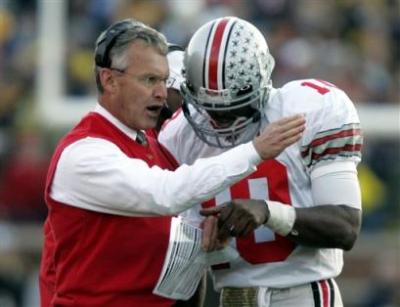 When Sports Illustrated's highly anticipated article about the fall of Jim Tressel finally was publish last night, almost everyone who read it felt a little underwhelmed. While the claims of "new pieces of information" and "uncovered violations" were technically true, there were no new stories of Jim Tressel taking the team to a casino to gamble, or to the club to drink. Rather it was a reiteration of the tattoo and car scandal that has captured the spotlight these past few months. To anyone who had been paying attention to the story, it seemed rather tame.
For a lot of people this was a letdown. Without truly new and damning evidence it seemed as though the college football world had been hyped up for an article that just used bigger words to describe what we already knew. While the violations in the Sports Illustrated article were not newly surfaced issues, what these violations prove is far more important than the action themselves; a dedicated subscription to ignorance by Jim Tressel and the Ohio State administration.
Before Sports Illustrated released their findings yesterday, the reported facts stated 5 student athletes had traded autographs for tattoos. Jim Tressel had lied to the NCAA about his knowledge of the issues, and that the NCAA was on its way toward a proper punishment. Everything seemed to be sorted out and headed forward.
But now the facts have changed. Assuming that the Sports Illustrated report is accurate, and there is no reason to think that isn't at least accurate to the point of this article, what could have been seen as an oversight by Jim Tressel now appears to be a pattern. A yearly display of as the NCAA likes to put it "Lack of institutional control".
Ohio State fans will point to a raffle that Jim Tressel allegedly rigged in favor of big recruits winning prizes such as gear and memorabilia. A direct violation of NCAA rules, but almost impossible to prove. Fans will call it a witch hunt by the media trying to take Ohio State down in flames, if anything to detract the attention away from the growing and obvious facts. Jim Tressel in the very least, knew that he wasn't paying attention to what his players were doing. A doctrine of ignorance.
If the Tat 5 had been the only athletes caught in this scandal. This would have worked for Tressel, and it is undoubtedly why he didn't leave as they were brought to light. Five players trading items for tattoos is far from the worst violation one could commit. It isn't impossible to understand how a student athlete can do things in their private life unnoticed. Ohio State would receive a slap on the wrist and they would move on.
What these five players represent though is the opening brush strokes of a painting. Water colors that have soaked into the paper just enough to be seen. The Sports Illustrated article is a much larger brush, soaking in much deeper and brighter than before. No longer can Ohio State claim that it was an isolated incident just missing the eye of the coaches. A total of 28 players over the span of several years trading items for money, drugs, or tattoos. These incidents may themselves seem obvious or lacking a punch, but it goes a very long way towards changing the defense that Ohio State was fronting.
This is likely why Jim Tressel stepped down. As his defense of honest ignorance crumbled around him and the administration backed down on their support, like Pete Carrol from USC, Jim Tressel fled. As it became clear he knowingly turned a blind eye while his student athletes violated NCAA rules, Tressel's statesman like image went up in flames.
At the end of the day Sports Illustrated's article is not the final say on the Tressel and OSU days. It has only opened up what is turning out to be a deep, twisted path of corruption and lack of control. If the NCAA is truly interested in fighting the greed, and filth in the system, Tressel's resgination will not be the last we will see from Ohio State as it seems increasingly unlikely that he acted alone and without help.
What does it say that you guys aren't shocked you had 28 players committ major infractions over the past 8 years and your coach did nothing about it?
Tags: Jim Tressel Ohio State