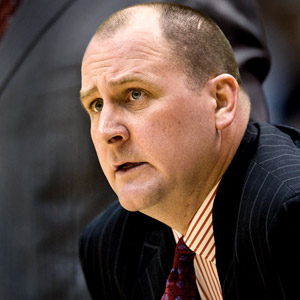 If Penn State is looking for a guy who can recruit in the Big Ten, Jim Boylen might just be their man. As an assistant under Tom Izzo at Michigan State, Boylen was seen as Izzo's heir to the throne if Izzo were ever to leave. After leaving Michigan State in 2007 for the head coaching position at Utah, Boylen was once again in consideration for replacing Izzo had zzo taken up the Clevland Caviliers on their offer to fill the coaching void left by recently fired Mike Brown.
So if you like playing pretend, Penn State is seriously considering an interview with a man that was days from becoming Michigan State's head coach. If that sounds like a pretty good deal, then you know what you're talking about.
What has Boylen done? From 1992 to 2003 Boylen was an assistant coach for the Houston Rockets for 11 years winning two NBA titles in that time period. After leaving Houston in 2003, Boylen hopped around the NBA before finding a home at Michigan State in 2005. Boylen had been an assistant at MSU for 5 years prior to heading to the NBA and instantly became a key part in the Spartan's success. While an assistant at MSU, Boylen was a crucial part of Michigan State's 45-23 record of a two year period that included two NCAA Tournament appearances.
Boylen left for Utah in 2007 winning the Mountain West conference his second season. Before being fired in 2011 Boylen had put together a 69-60 record including an 18-win season his first year and a 24-win season is second year (and No. 5 seed at the NCAA tournament).
With Jeff Lebo denying that any schools have contacted him about a coaching search, this makes Jim Boylen the first real candidate in Penn State's search to replace Ed DeChellis. If coaches such as Boylen are being considered then Penn State has taken this search in the right direction.